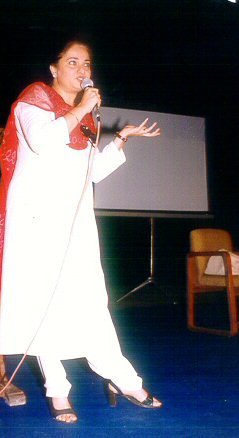 Several years of training in Kathak went along with mainstream studies.
A frequent resource person for workshops and seminars, both within India and overseas, Arshiya balances, the practice with the scholarship, of an art ancient in its roots, but relevant, even today, in its agenda.
Presently she is enrolled for a PhD programme in dance Studies at the Dept of Humanities and Social Sciences at IIT Delhi. Working on the Sattriya Dance of Assam and has frequently presented papers and delivered lectures concerning various facets of this dance form.
A two-year Government of India Research Fellowship awarded in 1991 to pursue work on The Abhinaya traditions of Kathak, took her, to innumerable villages and towns of the North Indian state of Uttar Pradesh. The numerous visits into the libraries, enabled her to explore both the practical and theoretical dimensions of this age old art.
She was the dance Critic for Times of India for seven years and participated in all seminars and conferences on the Arts in that period, including the India International Dance Festival, hailed as the mini American Dance Festival in India .
A pre doctoral M. Phil degree in International Relations, also from - Jawaharlal Nehru University, noted as the premier university in India for International Affairs.
A Masters degree in politics from the progressive Jawaharlal Nehru University New Delhi and
An Honours degree in Politics from Lady Shri Ram College , Delhi University