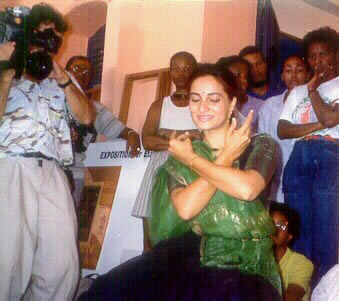 Striving for a better world has been the guiding motto for Arshiya Sethi. She believes in giving back to society, conserving man's natural, built, tangible and intangible heritage and in investing in the future through building capacity, hand holding, nurturing individuals with promise and institution building. She works across domains and fields and has a high credibility quotient in each field. Among the areas close to her heart are issues of women empowerment, life skills and adolescent education, Drugs and HIV prevention, nature conservation, Heritage preservation, and urban development and habitat issues.
Life skills and adolescent education - Although not formerly trained as an adolescent Counsellor, Arshiya Sethi used her native quality of empathy, experience as a conscientious mother and the trainings at the UNODC to address several adolescent issues including of image, self esteem, peer pressure, sexuality, goal setting, examination pressure, death and suicide and risk taking, for school children in several of Delhi's leading schools. Some of these are public schools like Modern School, DPS schools in NOIDA, Greater NOIDA and Vasant Kunj, DAV schools, Father Agnel School, Summerfield School etc. She also works with students of the Government schools, and is proficient in English and Hindi.
Drugs and HIV prevention - Arshiya has been a consultant for Networking and Communications, with the United Nations Office on Drugs and Crime, on a Project spearheading a nationwide primary prevention programme on drugs and HIV. In that capacity she helped generate material for text book integration for school children, aimed at protecting them from Drugs and HIV/AIDS and created the brochures and messages for the prevention programme. The adolescent education manuals for students and teachers that were generated during the project under her guidance and supervision have been incorporated into the new adolescent Education package that has been created by the NCERT.
She also conducts awareness programmes for the prevention of Drug use and the prevention of HIV for community organizations, adults and students, both in school and colleges, and outside schools as well.
Many schools call upon Ms. Sethi's expertise as they have strong student empowerment programmes. Some of these schools include DPS Schools, Modern School, Summerfield School, Kulachi Hansraj Model School, and several Government schools. She speaks in English, Hindi and Punjabi, in an engaging manner and is very popular with young people who discuss frankly sharing their worries and anxieties on these subjects normally regarded as taboo.
Working in jail settings- Additionally she is a mentor, to AASRA, An Association for the Scientific Research on the Addictions, a twenty one year old Not for Profit organization working in the field of drug use and being a leader in South Asia for work with drug using incarcerated populations.
Nature conservation – Arshiya has always been conscious of the environment and climate change. She has been a forerunner in the efforts to reduce carbon emissions and wasteful use of energy and water at a personal level. Her love for nature is best reflected in Bird watching.